1
Small players absorb twice as much Bitcoin as is mined by miners
The general public's interest in Bitcoin is growing every year, something clearly reflected in the decreasing share of whales (>1,000 BTC) and miners and the increase in shrimp (<1 BTC) and crabs (1-10 BTC). Detailed statistics on holder cohorts are provided by the analytical agency Glassnode.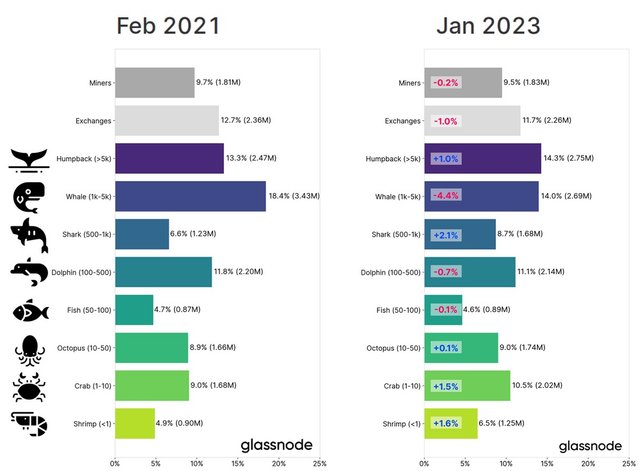 In the early days of the Bitcoin industry, the main holders were miners. As recognition grew, crypto enthusiasts and investors began to show interest, leading to a flow of coins to new market participants. The subsequent increase in mining difficulty, coupled with fierce competition, accelerated this process. In the second half of 2022, public miners sold more coins than they mined.
If we exclude lost Bitcoins (which have not seen movement for more than seven years), miners' holdings have shrunk to just 3.8% of the entire circulating supply.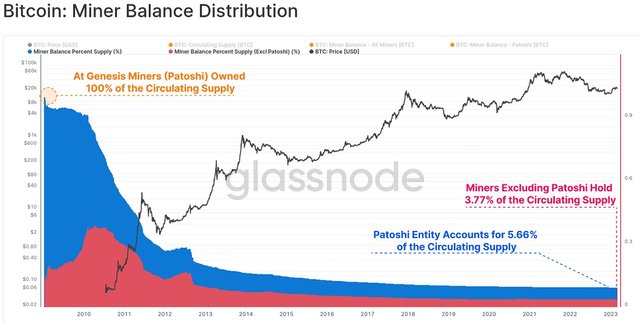 In contrast, increased interest in Bitcoin from the general public means that shrimps' supply has grown by 105% of what miners produced in the past year, while crabs have added 119%. Their combined share increased from 13.9% to 17% over the past two years.
The current accumulation rate by shrimp is 24,000 BTC per month, while at the time of the FTX crash, it reached 92,000 BTC a month. In total, this cohort currently holds 1.3 million BTC.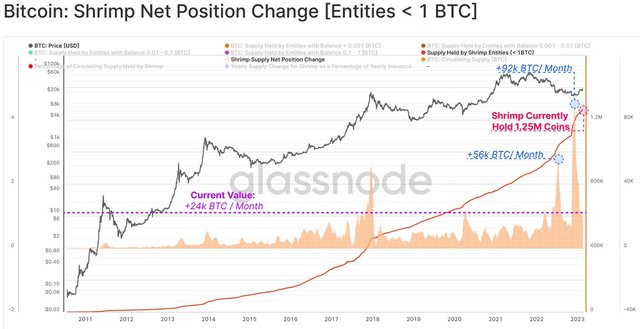 Crabs are slightly less active, with a current accumulation rate of 7,300 BTC per month and a total holding of 2 million BTC.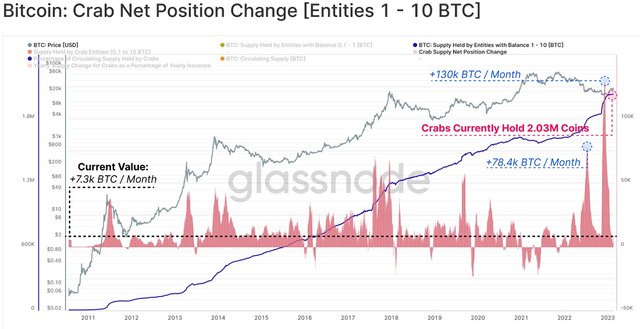 And while crabs are more cautious in their assessments of Bitcoin's prospects, shrimp are absorbing BTC in 2023 at an increased rate.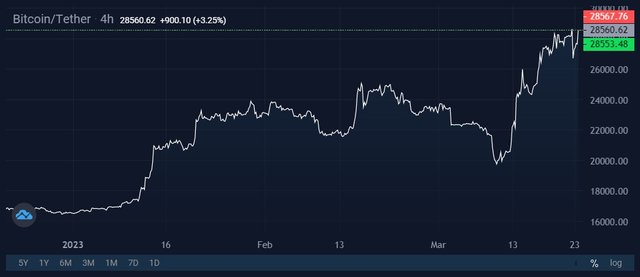 The increased demand for the cryptocurrency is due to the bankruptcy of several banks in the US and the potential spillover of this regional problem into a global financial crisis. A number of economists believe that the Fed will have to backtrack and not further tighten its monetary policy.
Bitcoin could be boosted today by Fed Chairman Jerome Powell's speech. The Fed is in a very difficult position, as maintaining a high key interest rate increases the risk of recession and new fissures in the financial system. A rate cut, on the other hand, would lead to rampant inflation and increased interest in risky assets.
StormGain Analytical Group
(platform for trading, exchanging and storing cryptocurrency)